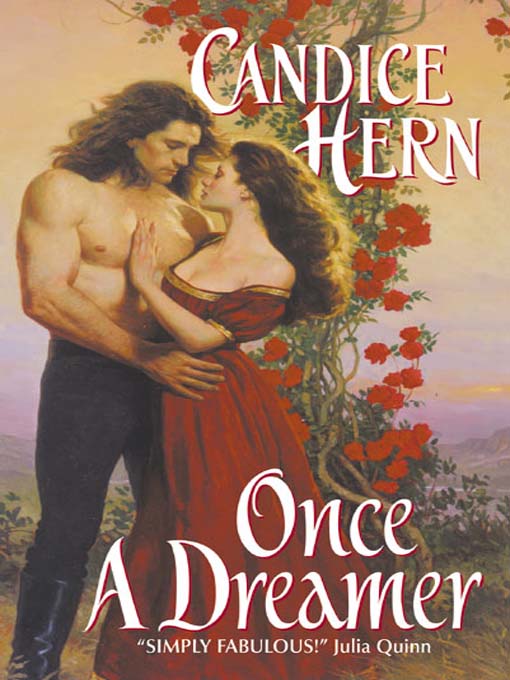 Harper Collins
Once a Dreamer
Candice Hern
2003
The Summary
"When Eleanor Tennant was called to look after her niece Belinda, she swore she'd help her find the perfect suitor. Unfortunately, Belinda prefers the attentions of Geoffrey Barkwith, a handsome, notorious rake with an unsavory reputation. In a letter to an advice columnist for
The Ladies' Fashionable Cabinet
, Belinda asks the woman - should she go after her heart's desire; her response is yes!
"Eleanor, furious with this advice, goes in search of the mysterious Busybody. She finds out that the wretched woman giving such public encouragement is not a woman at all, but a man!"
The Good
After reading
Once a Gentleman
and
Once a Scoundrel
, I was excited to begin reading
Once a Dreamer
. While I didn't enjoy this novel as much as the previous two I read, I did enjoy my time reading the first novel in the
Ladies' Fashionable Cabinet
series. It's fun and funny and, of course, it's filled with incredibly sweet moments that warmed my heart.
Although Simon is more of a romantic than I would normally like (I think I am like Eleanor in that regard), I loved the way he was constantly falling in love with Eleanor. Simon is hasty to fall in love, he's quick to jump in with both feet if his heart is behind the move; however, I found his affection for Eleanor to be more subtle. He adored her, blemishes and all, and he lost himself to her a little piece at a time as they traveled together.
I liked how completely smitten he was with her, and I felt my heart melting as Eleanor slowly and surely began to return his affections. Granted, his ode to her upper lip was a bit much, but his heart was in the right place.
Overall,
Once a Dreamer
is a cute, whimsical romance that will pluck at your heartstrings. While it's by no means my favorite in the series, it's fun and light-hearted and certainly worth reading if you'd like to see more of the characters you love.
The Bad
This novel, more than either
Once a Scoundrel
or
Once a Gentleman
, had my disapproval for its unexpectedly dramatic moments and its achingly embarrassing scenes. Honestly, I
hated
feeling so embarrassed for these characters. For instance, I was mortified by Simon's actions at any given time, because he was so often taken by flights of fancy. And, as for Eleanor, her gut reactions are equally painful.
I had several moments I had to stop reading and step away from the story. I couldn't handle Simon's overwhelming romanticism; I couldn't deal with Eleanor's chilly, outwardly venomous retorts. They're a sweet couple, don't get me wrong, but they seem to go through a gauntlet of embarrassing situations that just left me squirming.
Like I said, I don't like feeling embarrassed for characters. It's too easy for me to see the experience from my perspective.
The Ugly
When I first heard of Eleanor's history, I was heartbroken. She endured so much grief and heartache from her lover, from her parents, from her so-called friends, from her husband--from the people who were supposed to care for her. I'm not surprised she was cold and prickly and, in a word, unapproachable.
Personally, I would be too if I'd been subjected to the same things.