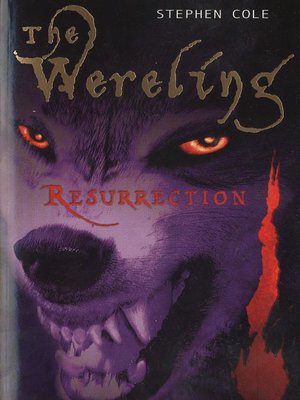 Image courtesy of
www.barnesandnoble.com
The Wereling: Resurrection
Stephen Cole
2004
The Summary
Now, closer than ever to discovering a cure, Kate and Tom are racing to find Jicaque - and stop Takapa once and for all.
But Takapa has big plans up his sleeve, and he'll stop at nothing to accomplish them and bring the werewolf community into a position of power.
The Good
As always, Stephen Cole provides an intriguing story, a fast action-packed plot, and a handful of lovable characters; however, he's also offered a little more insight into the werewolf myth.
He's making connections to Peter Stubbe - basically, the father of all werewolves - and throwing in a bit of magic, as well. It's an intriguing leap in logic and plot formation his made within this final novel.
Intrigued?
The Bad
In his previous novels, Takapa - i.e. "the bad guy" - appeared to focus solely on science. In fact, science and the misuse of technological advances permeated much of the novel. Cole appeared to draw on the abuses and corruption of science that Mary Shelley examined in her delightful gothic horror
Frankenstein.
Strictly speaking, there were no blatant instances of "magic" - in fact, even the werewolf transformation could be calmly explained away or dissected by science - yet Cole makes a very large leap in his final novel to include magic.
Magic appears to have become a legitimate issue, as well as a source of power Takapa can tap into. It's a curious, if not jarring, juxtaposition against the backdrop of previous novels. Granted, it's a little more in line with what's known about the werewolf myth, but I thought Cole intended to deviated from the traditional.
While this certainly won't spoil the final installment of
The Wereling
, it can certainly change how you perceive the following chapters.
The Ugly
Bloodshed, plain and simple.