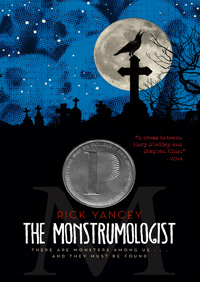 Simon & Schuster
The Monstrumologist
Rick Yancey
2009
The Summary
Written from the perspective of William Henry, a young orphan who has found himself under the curious care of Dr. Pellinore Walthrop,
The Monstrumologist
recounts the childhood memories of Will Henry as he becomes enveloped by his guardian's grim occupation.
For in the small town of New Jerusalem, a frightening creature has arisen from the depths of the earth to devour human flesh. Called "Anthropophagi," these creatures have a nightmarish appearance and a terrifying appetite - and only one man can successfully hunt them and stop them.
But that begs the question of which is more fiendish: the monster or the man who hunts them?
The Good
Rick Yancey's tale is finely detailed and ripe with vivid language, stunning characters, and wonderful scenes that depict an astonishing story. More than most, Yancey has managed to combine all the right elements of horror to fabricate a thrilling story that will keep you glued to the edge of your seat.
More importantly, Yancey has created in his novel a set of unique - if not occasionally unusual - and memorable characters. In particular, the character of Will Henry will steal your heart with his struggle to adapt to his circumstances under the doctor's care and his attempts to successfully survive the perils of his guardian's chosen occupation.
His story is tragic, but it's certainly one you'll want to hear.
The Bad
Honestly, I can find no ill remarks to make about Yancey's work, because it's so remarkably well-written with a plethora of fascinating characters and a fantastic story of love, loss, heroism, and horror.
But I will note that it follows in the tradition of other horror novels, like
Frankenstein
and
Dracula
- it takes a while for the suspense to build and a longer time yet for the plot to come to a close.
The Ugly
Violence, gore, and death - you'll find more than enough of all three over the course of
The Monstrumologist
. The novel has only a minimal amount of swearing; however, it frequently offers graphic depictions of violence and death that may border on extreme for a younger reader.
Think of it as a toned-down version of Stephen King. (But not by much, of course.)
It's also important to note that bad things will happen to relatively good people, and even worse will happen to the best.