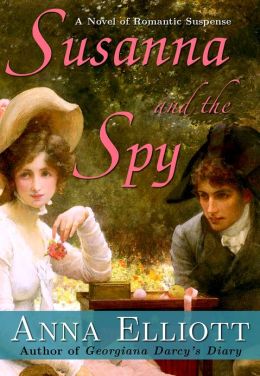 Image courtesy of
www.barnesandnoble.com
Susanna and the Spy
Anna Elliot
2011
The Summary
Susanna Ward, a young governess who finds herself near penniless and bereft of any occupation, has recently learned of the death of her estranged grandfather - a death which, she discovers, was no accident.

On her return to Rutherford Hall, her grandfather's estate, to speak with her distant relatives, however, a man stumbles into her bedroom apartment at night. Known as Captain Clark, he is a smuggler, a fraud, and a potential traitor to the crown of England - and he has all the trappings to turn Susanna's life upside-down.

The Good
Anna Elliott's novel is both fun and entertaining. Delightfully adventurous and enjoyably romantic, Susanna and the Spy can capture and keep your attention with its swashbuckling nature and riveting tale.
Besides its enjoyable story, Elliott's book is well-written and splendidly attractive for its clean-cut plot, its clearly depicted characters, and its suspenseful story design. In some ways, it reads like a good detective novel, providing twists and turns you might never see coming and offering a strangely satisfying conclusion.

The Bad
Susanna and the Spy does take some considerable time to build-up to the aforementioned satisfying conclusion, but, as that appears to be the point, it isn't inappropriately paced or excruciatingly difficult to endure the occasional tangent or random anecdote.
Some of the characters, like Caroline or Sophia, however, sometime seem like mere caricatures of a particular stereotype. Annoying, and sometimes distressingly oblivious or vindictive, they are people who don't necessarily detract from the overall story, but merely make the world in which they exist a more dangerous or brutal place.

The Ugly
Admittedly, there is a bit of espionage and murder involved.

After all, it's not all fun games for Susanna and Captain Clark. They both face the very real threat of being hanged for treason - or simply shot by the local police.